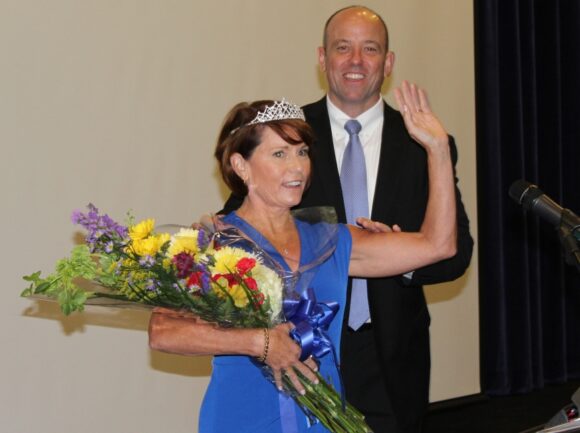 On an unseasonably cold day, Lyme-Old Lyme (LOL) Schools sailed smoothly into the 2017-18 academic year today with both a new principal and assistant principal — Mark Ambruso and Noah Ventola respectively — in charge at LOL Middle School.
The middle school is also home to the LOL Schools 'Teacher of the Year' Patricia Cournoyer, who was "crowned" yesterday at the All-School Administration, Faculty, and Staff Convocation. A popular choice, Cournoyer has been the physical education and health teacher for more than 10 years at the middle school and interacts with all students at each grade every year.
Eileen Griswold, who works in the Business Office was named Non-certified Employee of the Year at the same event.
Asked his aspirations for the new school year, Ian Neviaser, Lyme-Old Lyme Schools Superintendent, responded, "We are excited for another year of new learning, growth, and development in the Lyme-Old Lyme Schools. It is our intention to continue on the path of success that has been our standard for many years. We are excited to welcome all of our students back to campus to continue the tradition of excellence that has become synonymous with Lyme-Old Lyme."