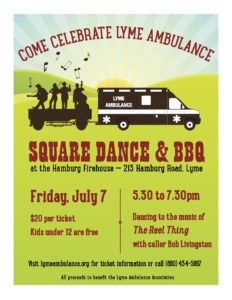 Mark your calendar to dance the night away on Friday, July 7!
Lyme Ambulance Association, Inc. is hosting a Square Dance & BBQ from 5:30 to 7:30 p.m. that evening at the Hamburg Firehouse, 213 Hamburg Rd., Lyme.
The family-friendly Square Dance & BBQ will feature live music by The Reel Thing with caller Bob Livingston.
Ticket prices are $20 for adults with children under 12  free.
For ticket information, visit lymeambulance.org or call 860.434.5667.
All proceeds benefit the Lyme Ambulance Association.