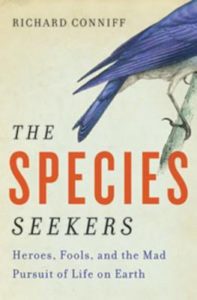 Local author Richard Conniff discusses his latest book, The Species Seekers: Heroes, Fools, and the Map Pursuit of Life on Earth, at the Florence Griswold Museum from 2 until 3:30 p.m. on Sunday, July 9. Admission is $5 for members and $7 for non-members.
From the mid-18th century to the early 20th, a colorful band of amateur naturalists explored the most perilous corners of the planet to discover new life forms. Amid globe-spanning tales of adventure, Conniff recounts a dramatic historical shift, as humans finally discovered the pantheon of life on Earth-and our place within it.
A book signing will conclude the event.
For more information and to make reservations, visit this link.
For more information about the Museum, visit this link.