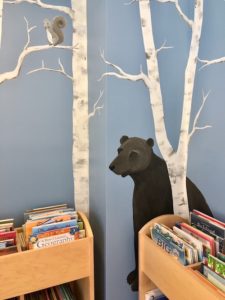 Local artist Kristen Thornton has painted a mural in the children's room of the  two-year-old Lyme Public Library building. The mural is a woodland scene that reflects the rural nature of the town and features birch trees along with a raccoon, deer, bird, squirrel, bear, and an owl. The mural is located in the small story hour nook.
Library Director Theresa Conley says, "The new library already had a bright and cheery children's room, but we wanted something special to make it a little more comfortable and homey.  Our Children's Librarian Barbara Carlson and Kristen Thornton came up with the idea of the woodland mural, which is just perfect."
According to Carlson, "The mural reflects the landscape of the community, and it will prompt a natural interest for discussion or research of the animals, trees and more.  It also provides a natural gathering place for all the children.
The young children easily access picture books or play with the many educational toys the library has, and the older children can gather in small groups."
Thornton is based in Old Lyme. She studied at Moore College of Art & Design and earned her BFA from the University of Connecticut.
She has exhibited her work in local galleries and on permanent murals in public and residential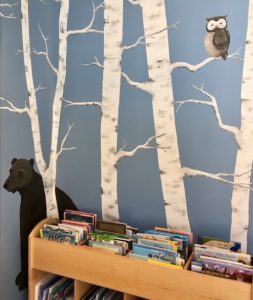 spaces, and she teaches art in schools and other educational organizations.
She currently teaches a weekly Open Studio class for students in grades 6-12 at the Lyme Library, as well as a monthly after-school Art & Books class for children in grades K-5.
The Lyme Public Library is open Tuesdays and Thursdays from 10 a.m. to 8 p.m., Wednesdays and Fridays from 10 a.m. to 5 p.m. and Saturdays from 10 a.m. to 4 p.m. The Library is closed Sundays and Mondays.