A dedication ceremony was held Sunday, April 23, for a Little Free Library that has been installed in the side courtyard of the Lymes' Youth Service Bureau (LYSB) courtesy of local Girl Scout Troop #63632.  The new Library is a "take a book, return a book" free book exchange.
The Girl Scout Troop, which is primarily comprised of girls currently in 4th grade at Lyme Consolidated Elementary School, earmarked annual cookie sale profits to design, build, install and maintain a Little Free Library at their host site, the LYSB on Lyme Street.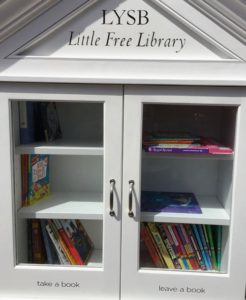 Little Free Library is a nonprofit organization that inspires a love of reading, builds community, and sparks creativity by fostering neighborhood book exchanges around the world. Through Little Free Libraries, millions of books are exchanged each year, profoundly increasing access to books for readers of all ages and backgrounds.
If you take a book (or two) from a Little Free Library, you do not need to return that specific book. However, in order to keep the Little Free Library full of good choices for the whole neighborhood, the next time you swing by the Library, bring a few books to share.  Little Free Library book exchanges function on the honor system; everyone contributes to ensure there are always quality books inside.
Last fall the Girl Scouts and their troop leader, Jennifer Datum, voted to proceed with the Little Free Library project to demonstrate the Troop's appreciation for their community and to build teamwork skills. The Library will be stocked initially with books from Troop members' personal collections. The girls will also be responsible for its monthly maintenance.
Because LYSB is located in the village of Old Lyme, the Little Free Library design needed to be reviewed and approved by the town's Historic District Commission.  Two Troop members, Chloe Datum and Ava Gilbert, presented the Commission with a classic design donated by Old Lyme architect Christopher Arelt of Nautilus Architects, father of Troop member Emma Rose Arelt.
Construction of the library included quality materials generously donated by Rings End in Niantic. The design was built and installed by Gary Lankerd, a master carpenter based in Waterford.  Additional details were implemented by Philip Schaller, owner of Signs & Digital Graphics in Deep River.
The Troop's dedication and reception ceremony was for everyone involved in this project, including leaders from the Old Lyme community and the Girl Scout Council. The Troop also expressed their thanks to Mary Seidner, Director of LYSB, who was instrumental in supporting both the Troop and this community service project.
Under the direction of Troop leaders, the Girl Scouts will be submitting the Little Free Library project for the Girl Scouts Bronze Award, which is the highest award a Junior can earn.  Working toward obtaining this award demonstrates their commitment to helping others, improving their community and the world, and becoming the best they can be.
For more information about Girl Scouts of Connecticut, visit www.gsofct.org
For more information about the Little Free Library program, visit LittleFreeLibrary.org
For more information about Lymes' Youth Service Bureau, visit lysb.org.