The Southeast Connecticut World Affairs Council (SECWAC) hosts Mark Trager – a distinguished fellow at the Washington Institute for Near East Policy and noted expert on Egyptian politics – on Wednesday, April 19, at Connecticut College. Trager will present an address entitled "How the Muslim Brotherhood Lost Egypt"
Trager is the author of "Arab Fall: How the Muslim Brotherhood Won and Lost Egypt in 891 Days," a recent book that chronicles the precipitous rise to power of Egypt's Muslim Brotherhood and its sudden demise just a year later. In the book, Trager assesses the current state of Egyptian politics and prospects for the Brotherhood's reemergence.  Signed copies will be available for sale at the end of the presentation.
Tickets for his presentation are $20 for the general public, and free for area students; tickets can be obtained at info@secwac.org. (Ticket cost can subsequently be applied towards a SECWAC membership.)  The address starts at 6 p.m. at Blaustein Hall at Connecticut College and will be preceded by a 5:30 p.m. reception.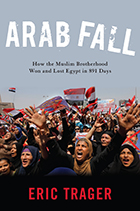 Trager – currently the Esther K. Wagner Fellow at the institute – was in Egypt during the anti-Mubarak revolts and returns frequently to interview leaders in Egypt's government, military and media. His writings have appeared in the "New York Times," "Wall Street Journal," "Foreign Affairs" and "New Republic," among other publications.
Trager graduated from Harvard University with a degree in government and language citations in Arabic and Hebrew; and subsequently studied at the American University in Cairo as an Islamic Civilizations Fulbright fellow – receiving  his M.A. in Arabic studies with a concentration in Islamic studies. He served as an adjunct professor at the University of Pennsylvania where his doctoral research focused on Egyptian opposition parties.
The presentation is a part of the SECWAC Speaker Series.  SECWAC is a regional, nonprofit, membership organization affiliated with the World Affairs Councils of America.  Its mission is to foster an understanding of issues related to foreign policy and international affairs through study, debate and educational programming.  Through its annual Speaker Series, SECWAC arranges up to 10 presentations a year that provide a public forum for dialogue between its members and experts on foreign relations.
Membership information is available at www.secwac.org.