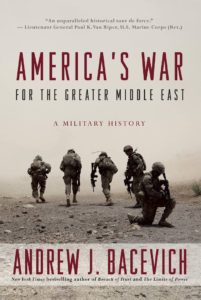 The Southeast Connecticut World Affairs Council (SECWAC) has announced that Andrew J. Bacevich – the prominent U.S. foreign policy critic and New York Times best-selling author – will deliver a presentation based on his most recent book, "America's War for the Greater Middle East" at Connecticut College in New London on Monday, Nov. 14.  Bacevich's talk will offer a searing assessment of U.S. involvement in the Middle East over the past 30 years – one that is likely to change the way Americans think about their country's involvement in one of the world's most volatile regions.
The Wall Street Journal called the book, "Bacevich's magnum opus … a deft and rhythmic polemic aimed at America's failures in the Middle East, from the end of Jimmy Carter's presidency to the present."  The Washington Post said the book offers "a critical review of American policy and military involvement… Those familiar with Bacevich's work will recognize the clarity of expression, the devastating directness and the coruscating wit that characterize the writing of one of the most articulate and incisive living critics of American foreign policy."
The presentation, part of SECWAC's Speaker Series, is open to SECWAC members and their guests.  The event will take place at 6 p.m., Monday, Nov. 14, at Connecticut College's Blaustein Hall in New London.  It will be preceded by a 5:30 pm reception and followed by a book signing and  dinner at $35 by reservation only with Bacevich.
Bacevich is professor emeritus of international relations and history at Boston University.  His three books prior to this most recent one – Breach of Trust, Washington Rules and The Limits of Power – all hit the New York Times bestseller list.  A graduate of the U.S. Military Academy, he served for more than 20 years as a commissioned officer in the U.S. Army, before retiring from active duty as a colonel.  He received his Ph.D. in American diplomatic history from Princeton.  Before joining Boston University, he taught at West Point and Johns Hopkins University.  A winner of the Lannan Notable Book Award, he lectures frequently at universities around the country.
SECWAC is a regional, nonprofit, membership organization affiliated with the World Affairs Councils of America.  Its mission is to foster an understanding of issues related to foreign policy and international affairs through study, debate and educational programming.  Through its annual Speaker Series, SECWAC arranges up to 10 presentations a year that provide a public forum for dialogue between its members and experts on foreign relations.  Membership information is available at www.secwac.org.