It seemed as if almost the whole town had turned out Thursday, Sept. 29, to say farewell to Mary Fiorelli, who was retiring after almost 16 years as director of the Old Lyme-Phoebe Griffin Noyes Library (OL-PGN) and another three before that as its reference librarian.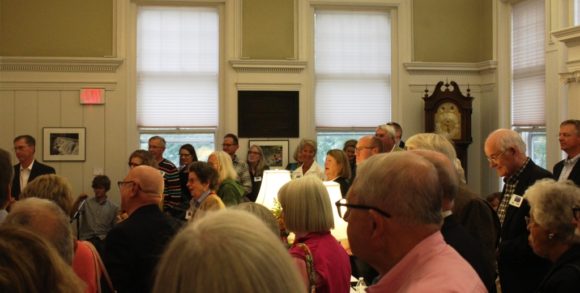 The large crowd, pictured in small part above, which had caused the parked cars outside not only to fill the library's lot but also to span both sides of the length of Lyme Street, overflowed from the Reading Room at the back of the library into the main area of the library itself.  It was a sad but joyous occasion as the community said goodbye to its much beloved, happily adopted (Fiorelli lives in Mystic) member and wished her well in all her new retirement ventures.
In a typically short but genuine speech — Fiorelli is well-known for avoiding the spotlight whenever possible — she thanked the Old Lyme community, "for giving me the opportunity to do the job I love for almost 16 years."  She confessed, "For me, the best part of being the director has been developing programs and exhibits. It allowed me to stay in touch with our patrons … I heard all about what they liked or were interested in, which gave me a way to gauge our successes and plan for future programs."
And it was while planning these programs that Fiorelli found she, "wanted to explore my own need for a creative outlet, which led me to pick up a camera and take photography classes." Standing in a room filled with an exhibition of photographs she had taken,  Fiorelli commented, "This photographic exhibit is my way to share with you my passion for the outdoors and the many hidden gems we have in our own state parks and preserves."
In a somewhat longer speech, the chairman of the OL-PGN Board of Trustees Alan Poirier noted, "I'm not sure of the math, but I believe Mary is the 19th or 20th director of the library – and we are transferring this great legacy that goes back to the dedication in June 1898." He said that at the 1898 ceremony, Daniel Gilman, President of the Johns Hopkins University, called the library, "a place for inspiration."
Poirier told the audience, "Mary has kept to that vision with all that she has done for us.  She has helped us deliver the experience we want patrons to have," which was, "… to be the community's vibrant hub for engagement, discovery and creativity," and, "to inspire lifelong learning and discovery in a welcoming place with exceptional resources, programs and services."  Poirier stressed the fact that Fiorelli had worked diligently to make the library "a welcoming place," especially in her work setting up and curating art exhibits, thus, "helping to maintain that link to the artist, which goes back to the earliest days of the library."
He also noted that Fiorelli had increased participation in library programs by over 60 percent in recent years, broadened outreach to home-bound patrons and created new partnerships with local schools. Moreover, she kept the Trustees well-informed about operations and about new opportunities and, "… most importantly, she has built a huge reservoir of trust with the patrons."
Fiorelli is a keen sailor and Poirier drew on a seafaring metaphor to sum up Fiorelli's contribution to the library, saying, "calm in a storm" comes to mind when one thinks of her, and adding, "I can say that her calm and steady and knowledgeable approach has taken us very far, and I know these traits will continue to drive what she does from here on.  Mary has continued to make this a place for inspiration – and for that she is a friend forever to the staff, patrons and trustees."
A former chairman of the board of trustees, David Winer, noted Fiorelli, who had joined the library in 1997 as its reference librarian, only applied for the director's position "with great reticence and ambivalence."  She was appointed Library Director in 2000 and Winer commented that, ironically, after so much persuasion to make her apply, her 16 years of service "now make her tenure one of the longest in the library's history."
Winer said, "It didn't take her long to be the best there is … and she did everything from setting up exhibitions, tearing them down, even cleaning the toilets!"  He concluded, "She's a true multi-tasker."  He listed numerous accomplishments that Fiorelli had achieved which included increasing the endowment by over $1 million in three years and leading the library "into the high-tech age," which he commented to laughter was quite a challenge in Old Lyme.
To more and louder laughter he added, "She also learned how to deal with the board of trustees — all 17 members — and became very skilled at exiting them out of her office!"
Winer concluded, "Under your direction, the library became the heart and soul of Old Lyme and I want to thank you for all you've done for the library, for Old Lyme and wish you the best for your retirement … and God speed."