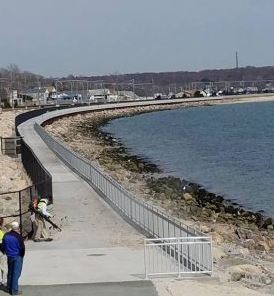 On Saturday, May 28, at 11 a.m., the East Lyme Public Trust Foundation, in co-operation with East Lyme Parks and Recreation Department, will sponsor A Dream Fulfilled, the official re-dedication of the East Lyme Boardwalk.  The re-dedication ceremony, which will be held on the Boardwalk, will feature keynote speaker, Sen. Paul Formica, former First Selectman of East Lyme.
Other speakers will include East Lyme First Selectman Mark Nickerson, Public Trust President Joe Legg, Public Trust Past-President Bob DeSanto, Public Trust Vice-President John Hoye, and Parks and Recreation Director Dave Putnam; all the speakers will recognize the many people who have helped made this dream a reality.
The East Lyme Public Trust Foundation would like to invite the general public to witness this historic occasion.  In addition, the members would especially like to encourage the participation of the 200 people who dedicated benches and the innumerable people who sponsored plaques.
They would also love to welcome all members of the Trust – past and present – and all those who originally helped make the Boardwalk a reality.
Participants should enter the Boardwalk at Hole-in-the Wall on Baptist Lane, Niantic.  Then, there will be a short walk to the area of the monument where the ceremony will take place.  At the entrance to Hole-in-the Wall, the Public Trust will have a display of historical information and memorabilia related to the construction and re-construction of the Boardwalk.  Public Trust members, Pat and Jack Lewis will be on hand to host the exhibit titled Before and After and to welcome participants.
After the ceremony, participants will have the opportunity to visit "their bench" and re-visit "their plaque."  During and after the dedication, music will be provided by Trust member, Bill Rinoski, who is a "D.J. for all occasions."  Rinoski will feature "Boardwalk-related" music and Oldies plus Top 40 selections.  This historic occasion will be videotaped as a public service by Mike Rydene of Media Potions of East Lyme.  High school volunteers will be on hand to greet participants and help with directions.
The organizing committee is chaired by Michelle Maitland.  Her committee consists of Joe Legg, President of the East Lyme Public Trust, Carol Marelli, Bob and Polly DeSanto, June Hoye, and Kathie Cassidy.
Visit Facebook – East Lyme Public Trust Foundation – for more information on the re-dedication ceremony. 
For more information on the Boardwalk, explore this website.