Why do islands so often seem to be symbols of disconnection when, in fact, they illustrate multiple connections to the past, present and future?
Adam Nicolson, a privileged Englishman (Eton, Cambridge and Parliament) explores these thoughts through the medium of the three rugged Shiant (pronounced "Shant") Islands, in the middle of The Minch, a rushing, spilling, tumultuous tidal spillway between the mainland of Scotland and the Hebrides islands off its northwest coast. They were purchased by his father, deeded to him and are now the possessions of his son.
But, as he cautions early in this story of the seasons in Scotland, "My islands are not a place from which to exclude others … Land … is to be shared." And so he does in this captivating exploration of essentially three rocks "owned" by millions of birds: puffins, kittiwakes, fulmars, gannets, and eagles comprising a veritable, "… theatre of competition and enrichment."
I first heard of the Shiants through Robert Macfarlane, in his story of trekking and sailing both land trails and waterways, The Old Ways (Penguin, New York 2012), when he and a friend sailed a small lugger from Stornoway, on the Island of Lewis, to spend two idyllic days and nights there. He too found them far from lonely with the evidence of past habitation, the teeming avian population (primarily puffins) and a copy of Nicolson's Sea Room about the islands' former residents.  Macfarlane noted the, "delusion of comprehensive totality … a boundedness" of islands, in light of the reality of their connectedness to the sea, to other islands, to the mainland, to history, and to present inhabitants.
"Sea room" to me, a long-time sailor with modest service in the U. S. Navy, means always maintaining proper distances between my ship and the shore, other ships, and especially the bottom. To Nicolson it also connotes a "room," a place near the sea, from which to appreciate both motion and stability."
And he does appreciate the seasons. "Spring here is always beautiful for those uncertainties … It is the season of uncertainty … Summer … is languor … Autumn hangs on like an old tapestry, brown and mottled, a slow, long slide into winter … and winter itself, of course, has persistence at its heart, a long, dogged grimness which gives nothing and allows nothing … "
This is a very human exploration. Nicolson's approach: "I never think things through. I never have. I never envisage the end before I plunge into the beginning. I never clarify the whole. I never sort one version of something from any other. I bank on instinct, allowing my nose to sniff its way into the vacuum, trusting that somewhere or other, soon enough, out of the murk, something is bound to turn up. I'm wedded to this plunging-off form of thought, and to the acceptance of muddle which it implies."
Nicolson advocates " … an excited 'what next?' as the motivating force in life, a stodgelessness, an inability to plan."
His enthusiasm, however, in investigating the past of his islands leads too often to simple conjecture. In 11 consecutive pages, I found the following words and phrases: "a possibility – perhaps – maybe – no record – almost certainly – might have been – probably – is it? –  one can only imagine – no way of telling – guesses – may have been used – may well be – suggests – may be dated – would have been seen – another version – might well have been – fragmentary at best." Almost a fictional novel , but he remains a thoroughly engaging tour director for the Shiants and the lore of Scotland.
So isn't it time to explore our islands? How many of us have been ashore, lifting rocks and staring at the mainland, on some of the Lyme islands: Selden Neck, Brockway, Notts, and the evocatively named Calves, Goose and Rat? What are their histories?
I think I will try one of them this summer …
Editor's Note: Sea Room by Adam Nicolson is published by Harper Perennial, London 2001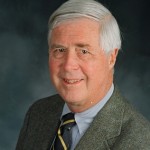 About the author: Felix Kloman is a sailor, rower, husband, father, grandfather, retired management consultant and, above all, a curious reader and writer. He's explored how we as human beings and organizations respond to ever-present uncertainty in two books, 'Mumpsimus Revisited' (2005) and 'The Fantods of Risk' (2008). A 20-year resident of Lyme, he now writes book reviews, mostly of non-fiction that explores our minds, our behavior, our politics and our history. But he does throw in a novel here and there. For more than 50 years, he's put together the 17 syllables that comprise haiku, the traditional Japanese poetry, and now serves as the self-appointed "poet laureate" of Ashlawn Farms Coffee, where he may be seen on Friday mornings. His wife, Ann, is also a writer, but of mystery novels, all of which begin in a bubbling village in midcoast Maine, strangely reminiscent of the town she and her husband visit every summer.